Question
How can you draft a response before sending it to the Requester/Client/Customer?
Answer
A new feature is rolling out to all Zendesk instances
| | | |
| --- | --- | --- |
| Phased rollout - Announced on May 1, 2023 | Rollout starts | Rollout ends |
| Phase 1: All channels that support public replies, except chat and messaging | May 16, 2023 | May 19, 2023 |
| Phase 2: Chat and messaging channels | May 22, 2023 | May 25, 2023 |
Standard Process
Instead of composing messages as internal notes then copying them over to public replies, you can write a draft first, then send it when you're ready to submit the update.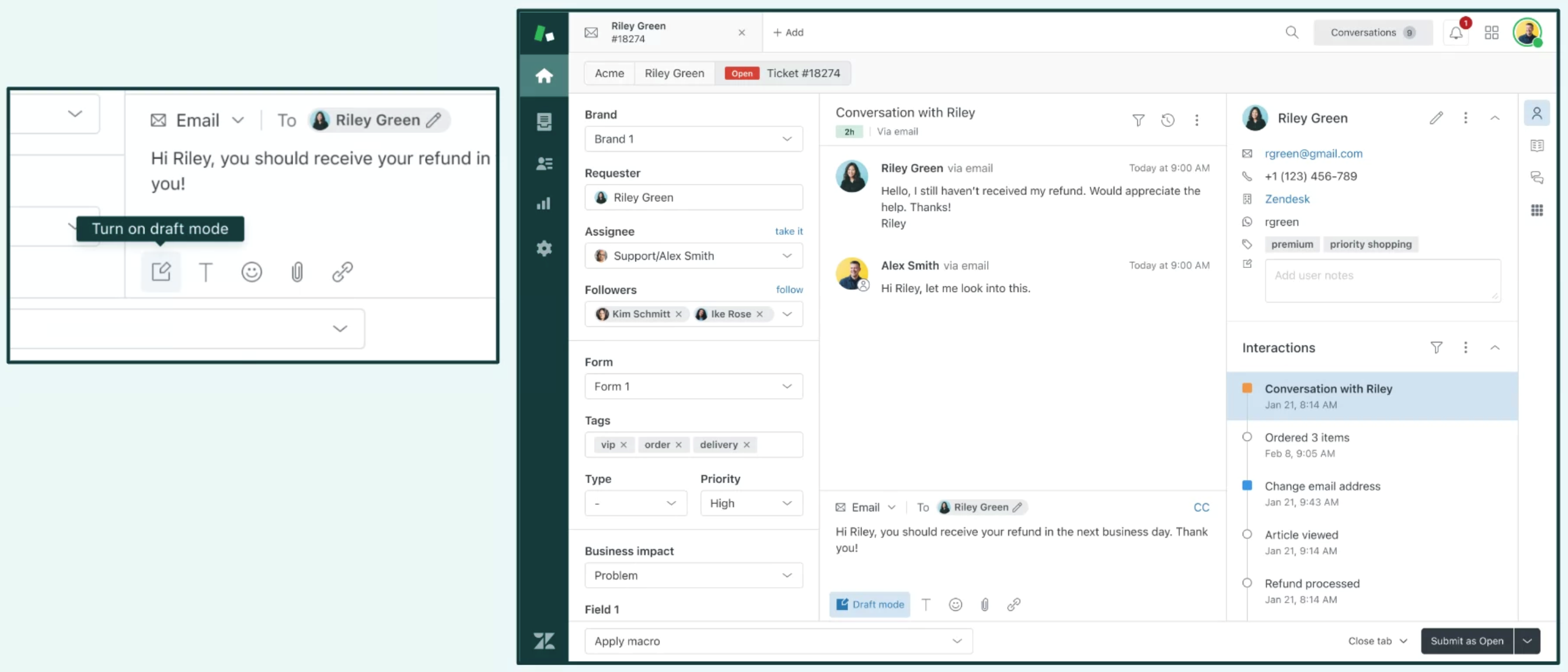 Draft mode is available only when you're composing a public reply, not when you're adding internal notes.
Composing draft messages
Use draft messages to refine your ticket updates before you send them to a customer.
To write a draft
In a ticket, select a channel from the menu at the top of the composer.

You can select any channel except Internal note

in the ticket composer to compose a draft message. This includes email, chat and messaging channels, and other public replies.

Click the draft icon () to turn on draft mode.

When draft mode is on, you'll see a Draft mode

button in the composer.

You can click this button to turn draft mode on or off. Draft mode remains on until you turn it off. Zendesk remembers your last choice for draft mode as you work across tickets.

When draft mode is on, type your reply in the composer.
When you're ready to make the reply public, click Submit.
A draft warning message appears asking if you want to send the draft to the public channel.
Click Go back to return to editing the draft or click Send to make the reply public.
Note:
You can also turn off draft mode first, then submit the reply. In that case, the message is no longer a draft and no draft warning message appears. However, the draft mode will be off for the next ticket you open, until you turn it back on.
In chat tickets, pressing the Enter key will not send the message or display the draft warning message. This enables you to compose your message without worrying about pressing enter and sending the message by mistake. To send the message in this situation, click send in the composer, then click Send when the draft warning message appears
For information on how draft mode works in the ticket composer, see the article: Writing drafts of public replies in tickets