What is the best method for engaging the Service Desk?
When you need to log a ticket with the Service Desk there are some basic things to consider to determine whether you should call or send an email or chat with Service Desk Agents
Below are the toll free numbers
| | |
| --- | --- |
| Locations | Toll Free Numbers |
| North/South America | +1 416-510-5899 |
| North America | +1 866-977-6008 |
| US Government | +1 888-789-3844 |
| London | +44 207-920-6661 |
| Hong Kong | +852 5808-4894 |
| Shanghai | +86 21 5400-5111 |
| Singapore | +65 6950-1310 |
| Bangalore | +91 8067 975789 |
| Poland | +48 22 1857700 |
If you have an issue or request that is urgent or critical, ALWAYS call the Service Desk for assistance.
Our SLA to answer phone calls is 45 seconds.
By calling the Service Desk, this will ensure you obtain immediate assistance and allow you to articulate why your ticket is urgent or critical.
The Service Desk team will do their best to assist you live on the call, but if it is something that needs to be assigned to another resolver team (ie. ReloAccess, Novus or OnBase support teams) they will create a high severity ticket and assign it to that team for resolution.
Please note, all System Access Requests do require an email with a completed System Access Request form and manager's approval. However, if the request is urgent you can send the email and then call to ensure a ticket is created and processed quickly. Email – servicedesk@bgrs.com
If your issue is not urgent or critical, please send an email to the Service Desk.
Our SLA to respond to email is 1 hour, however in rare situations if the Service Desk is experiencing a high volume of issues this can go beyond 1 hour.
Chat Feature is also enabled to contact Service Desk from the below option
User(s) can access the URL - https://servicedesk.bgrs.com/hc/en-us and click on the support option to start chat feature

Service Desk representative will reply to all your queries and assign the chat ticket to the resolve group if the issue/task is outside Service Desk scope.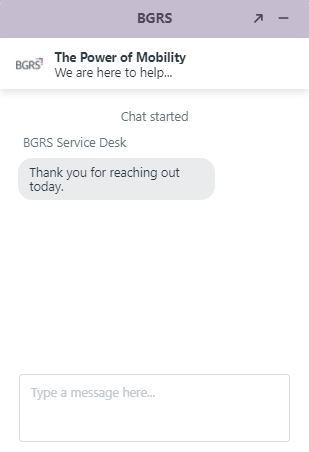 What information do I need to provide to the Service Desk when logging a ticket?
Please provide as much detail as possible. This will ensure the ticket is categorized and assigned to the proper team right away resulting in a much faster resolution time. Every time we need to contact you for more information causes significant delays in the resolution.
The minimum information required when logging a ticket includes:
Contact Information – Especially if you are logging the ticket on behalf of another employee, client or customer.
Impact – How many users are impacted? (Single user, team, department, office, etc.)
Urgency – How long before the incident or request has significant business impact?
Client Impact – Does the ticket impact a client? If yes, clearly identify the client.
Steps to Reproduce – If IT can replicate the issue it is much easier to resolve. This includes:

Application name
Screen or Feature within the application
Your role within the application
A file number or client name (if applicable)
What action you were trying to accomplish? Specific steps are helpful.

Screenshots – Helps highlight issues or identify error messages.
Appropriate Forms and Approvals – For Access Requests